The LoRaWAN protocol is capable of transferring sensor data or changing the behavior of an actuator. LoRaWAN can be used for both
uplink and downlink messaging
and within LoRaWAN there are three traffic categories defined, namely Class A, Class B and Class C.
Class A (default)
Class A is the default device class, used for battery powered sensors or actuators. Each uplink message is followe by two receive slots for downlink messages. Downlink transmissions are queued in network until next uplink creates two receive slots. Between uplink messages and downlink receive windows (RX1 and RX2), the device is in sleep mode and the battery is preserved. Note that the network cannot send a downlink until the device wakes up (triggered by an event on the device like a timer or a sensor threshold).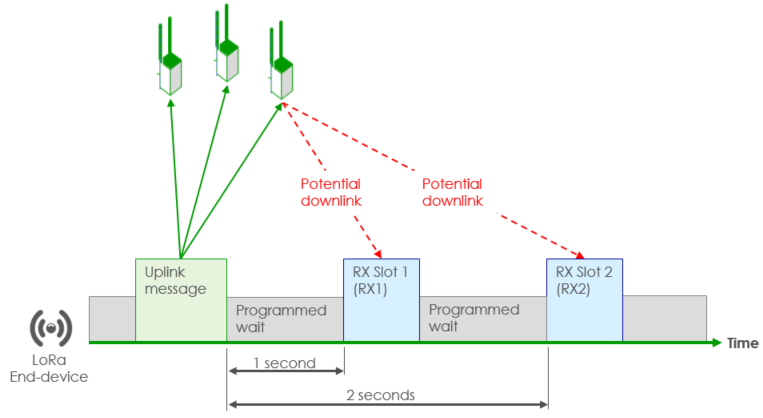 Class B (Beacon)
Class B communication is based on slotted communication that is synchronized with a network beacon.
Currently this feature is not yet enabled in the KPN LoRa network.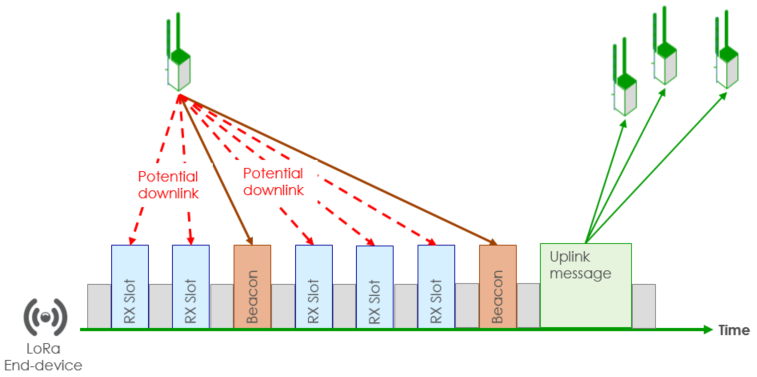 Class C (Continuous)
Class C devices always listen between uplink messages. This device class is thus always available for downlink messages, which draines the batteries. Class C devices will thus always be mains powered.